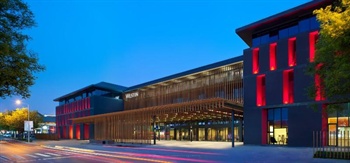 The Westin Xi'an provides a great place for travelers to relax after a busy day. With Free in-room Wi-Fi and easy access to the Qujiang Exhibition Area, this hotel makes a convenient choice.
The hotel is only 8km from Xi'an Railway Station and 43km from Xianyang International Airport, giving guests a number of convenient transportation options. In addition, Da Yan Ta Station Metro Station is just a short walk away. For guests wanting to check out some of the area's tourist destinations, Shanxi History Museum is approximately 3km away by car.
When guests have some time on their hands they can make use of the onsite facilities. For guests' convenience, airport pickup can be arranged.
According to our guests, the location of this hotel is one of the best around. For guests traveling with families, this hotel is consistently one of the most popular choices.